ZIGGURAT WINTER RETREAT
 with Åsa Tricosa
Tuesday, 8th December to Sunday, 13th December 2020
Cancelled due to Covid-19
in the Old Church at Bernkastel-Wehlen in the Mosel valley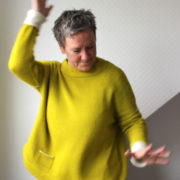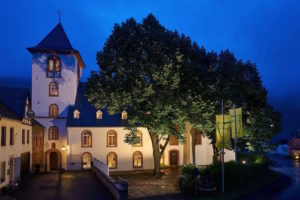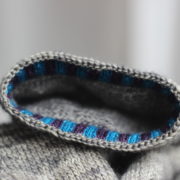 Aren't we all longing for some knitting together with friends? We are delighted to invite you to our luxury Ziggurat Winter Retreat in the Mosel valley. We will gather in a picturesque former church, The Old Church, which has been transformed into a luxurious retreat space. Expect six relaxed days full of knitting, delicious food and wine and the good company of other knitters!
*The workshop will be held in English, but Åsa understands and speaks German and is happy to take questions in German.
**Due to the current situation, we have to make a few adjustments for this event. Please note the Covid-19 information throughout and at the bottom of the page.
about Åsa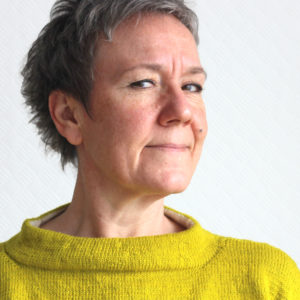 Åsa Söderman (of Åsa Tricosa) is a Swedish designer who now lives in Copenhagen with her Danish husband, where she knits, reads, and bakes with abandon. Åsa designs things she likes to wear, things that are missing in her closet, things begging to be invented. Her style is simple with great attention to the telling or funky detail and sometimes a slightly mad construction. She likes to think of her work as well crafted in the Scandinavian design tradition. The seamless top-down Ziggurat method is her signature technique. It has evolved over several years, and it keeps evolving. For that is what is so exciting about knitting. There's always something new to discover or invent and make. You can find her designs on asatricosa.com and on Ravelry.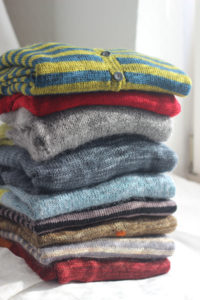 This is a workshop filled with inspirational knitting techniques and the chance to create your own custom-fit Ziggurat sweater. You will be able to knit and learn at your own pace and have many opportunities for one-on-one learning and tuition – in the good company of fellow knitters.
Knitters will be carefully guided through the mysteries of gauge and stitch counts to personalize a pattern for sweater that really fits. Over our days together participants will progress, at their own speed, to cover a multitude of techniques. The days will be packed with inspirational knitting "secrets"; and while you may not complete a sweater, you will be well on your way.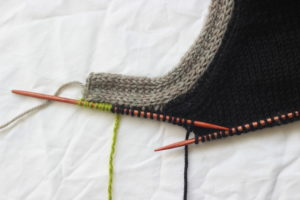 There will be sessions on lined seamless hems, winding provisional cast ons, 3-needle and stretchy bind offs, magic looping, pocket variations, hem variations, the perfect (it is!) button band, double cuffs, interesting ribbing and other stitch patterns, and… more!
Over our six days together we will pick and choose which techniques and tricks to spend more or less time on, and there will also be plenty of opportunities for one-on-one mini sessions throughout.
And we will have fun!
what to prepare

_choose a Ziggurat pattern (or narrow your choice down to 2-3)
_you will receive via email a pdf pattern in good time before the workshop
_select and buy yarn for this pattern
_swatch
---
the schedule
We will welcome you at The Old Church on Tuesday, 8th December from 5 p.m. with a piece of homemade cake, a glass of Mosel wine and a cup of tea. We will all gather in our comfy knitting room under the roof around 6 p.m. for an opening session, followed by dinner in the former church nave.
The next days will be filled with lots of knitting in a morning and an afternoon session with Åsa. Between workshop sessions and meals there will be ample time for walks and relaxed knitting.
The Mosel valley is very well known for its excellent wines. A wine tasting on one of our afternoons lets us sample the variety and beauty of the Mosel wines. Bernkastel-Kues, the nearest town is known for its traditional and very charming Christmas Market. Another of our afternoons will be spent at Bernkastel-Kues at the Christmas Market followed by dinner in town. Please note that these activities are optional – if you prefer to stay in the church and have a session of laid-back knitting or go for a long walk, you are very welcome to do so.
The morning session on Sunday will finish with a show & tell. We will be leaving by 3 p.m. on Sunday…with a sweater well underway and plenty new knitting skills to take home.
Please note: This is proposed schedule only as it is subject to minor changes depending on the local weather, Covid-19 regulations, availability and new opportunities.
---
the location 
The Ziggurat Knitting Retreat will take place at The Old Church, a picturesque former church which has been transformed into a luxurious retreat space. The Old Church is situated in Bernkastel-Wehlen, a village in the beautiful and stunning Mosel valley close to the famous town Bernkastel-Kues.
The Mosel valley is one of the most beautiful spots on earth – quaint villages, fairy-tale castles, vineyards along the winding river Mosel. The perfect spot for a relaxing and inspiring knitting retreat.
All 10 rooms at the church are spacious and used as single rooms for the retreat. Bathrooms are shared (7 bathrooms plus 2 WC for 10 participants).
The workshops with Åsa will take place in the comfortable and spacious living room under the roof of the church, where we can knit on the sofa or in the fantastic hanging chairs.  We will take our meals in the former church nave which is now a spacious open kitchen and dining area.
Please note that access to all rooms including the workshop is via stairs.
---
the food
We will have our breakfasts, light lunches and dinners in the nave of the church. Dinner will be accompanied by different Mosel wines.
After visiting the Christmas Market in Bernkastel-Kues on one afternoon, we will have dinner in a restaurant in town. This is paid individually and not included in the workshop fee.
In between meals, you are welcome to help yourself to complimentary snacks and fruit, homemade cake in the afternoons, along with coffee and a selection of tea.
---
the price and registration
Please note: Due to Covid-19, there are only single rooms available for booking unless you are coming from the same household. 
The price includes the workshop, accommodation, all meals as stated above (except one dinner in town) and group transfer from and to Wittlich station. Transfer at other times and/or to other locations is paid individually. I am very happy to help with organization, should you need individual transfer.
Please note the booking conditions with information concerning registration, payment and cancellation. Please also note the Covid-19 rules outlined at the bottom of this page. Prices including VAT.
Event cancelled due to Covid-19. No registration possible.
---
how to get there
The Old Church is located in Bernkastel-Wehlen, a village in the Mosel valley.
For those who will be arriving by plane or train, there will be a free group transfer from Wittlich station to the church and back (details tba).
For those arriving by car, the address is Brückenstraße 15, 54470 Bernkastel-Wehlen. Parking is available in front of the church, please drive through the gate. Parking on the street is not permitted.
---
COVID-19
Please note that under the current circumstances the event might be cancelled on very short notice. We very much hope that this will not be the case, but there are circumstances beyond our power, which might make this step necessary. Of course, in this case the workshop fee will be refunded in full. However, we can and will not accept any further claims. Therefore, we strongly suggest you take this situation into account when booking your travel to and from the workshop location. It might be best to choose travel options than can easily be cancelled.
You will not be able to attend the retreat if your country or region is one of the risk areas defined by the German government at the beginning of the retreat (December 8th 2020). An up to date list can be found on this page of the RKI (see at the bottom for English lists) . The official rules and regulations of the German government concerning Covid-19 apply.  The risk of not being able to attend because your country or region is defined as a risk area, is your own. The workshop fee will not be refunded if you have to cancel due to coming from a risk area. The normal booking conditions apply.
You will also not be able to attend if you show signs of a respiratory illness which might be symptoms of Covid-19 (coughing, sore throat, temperature, etc.). The booking conditions apply.
In the cases described in the preceding two paragraphs, a refund of your workshop fee is possible if another participant takes your place. See our booking conditions for details.
During the event a number of Covid-19 rules will apply. We will follow the rules and regulations of the German government at the time of the event. Depending on these regulations, it might be necessary to wear a face mask while walking around the building and/or during the workshop. You will be advised to keep a distance of at least 1.5m from other participants at all times. Please wash your hands regularly using a 30-second hand washing routine. Soap will be provided. Exchange of material/tools during the workshops should be limited.
We will make sure that all common rooms are ventilated regularly. All surfaces such as door knobs, handles and tables will be disinfected regularly. Dishes will be washed at high temperatures. We will provide hand disinfectant for the participants of the workshop and you are also welcome to bring your own.